Asylum, Trauma, Poverty and the Power of Creativity
'36 Pounds and 95 Pence' is a weekend of event marking the launch of The New Art Studio, an art therapy studio for asylum seekers and victims of torture. The event will consist of an exhibition of paintings by asylum seekers and refugees in conjunction with a weekend of debate and art making.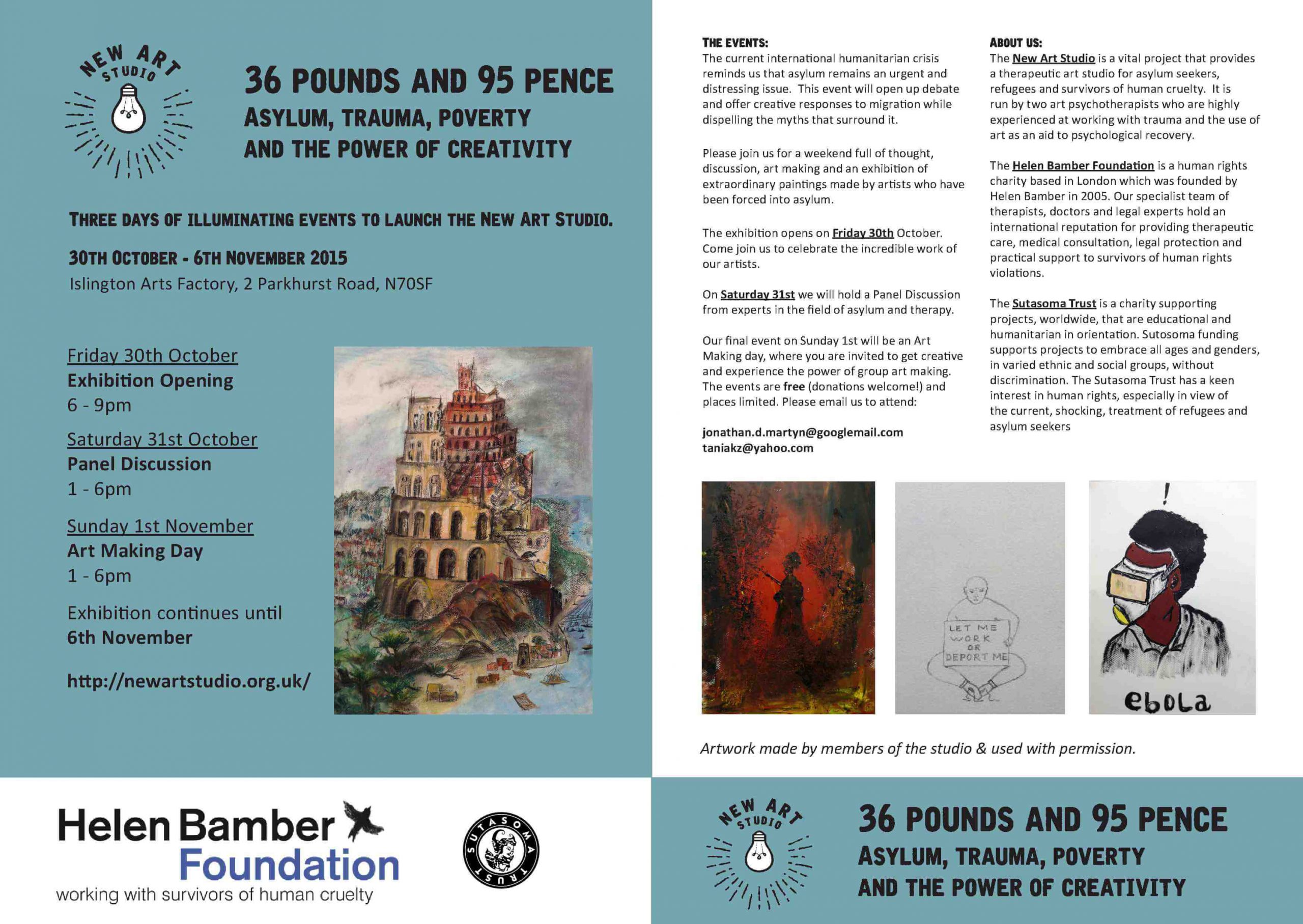 30th October – 6th November 2015
Islington Arts Factory, 2 Parkhurst Road, London N70SF, United Kingdom
The exhibition opens on Friday 30th October (6-9pm).  Artwork will be for sale, and all money will go to the Helen Bamber Foundation, and help us to continue our vital support to survivors of human cruelty.
There will be short speeches from: Prof. Cornelius Katona, Medical Director of Helen Bamber Foundation and Tania Kaczynski co-founder of the New Art Studio.
On Saturday 31st (1-6pm) we will hold a Panel Discussion from experts in the field of asylum and therapy.  The panel will be:
Doug Gill. Psychotherapist and co-founder of the studio upstairs.
Dick Blackwell, Group Analyst and Family Therapist, author of Counselling and Psychotherapy with Refugees.
Ruth Barnett.  Author of 'Love Hate and Indifference: The Slide in Genocide' and childhood  holocaust survivor.
Perico Rodríguez, Counsellor at Freedom From Torture and former political prisoner.
Angela Hobart, Psychotherapist and anthropologist. She has recently undertaken research on the genocide in Indonesia.
Our final event on Sunday 1st (1-6pm) will be an Art Making Day, where you are invited to get creative and experience the power of group art making.
The events are free, donations welcome, and places limited.  You are welcome to attend one, two or all events. Please email us to let us know what you would like to attend.
jonathan.d.martyn@gmail.com
taniakz@yahoo.com